Technical Rider.
Please contact Tony on 07831 561012 to discuss technical requirements as all events we perform at are unique depending on the lineup and combination of entertainment you require for your event.
Cheaky Blinders Channel list
kick
Snare
Hi hats
Rack one tom
Floor tom
Overhead left
Overhead tight
Bass guitar Di
Guitar amp mic
Keyboard left Roland Phantom
Keyboard right Roland Phantom
Track (laptop) di
Julian lead & B Vov
James B Vox
Rob B Vox
Jordan – Lead Vox (Radio mic)
Floor tom left stage
Floor tom right stage
2 x floor toms at front of stage stage left and stage right.
Light under each floor tom
Water will be on skins.
Monitors .
Lead vox – 2 monitors Aux send 2
Keyboard BVox 1 monitor Aux send 1
Guitar BVox 1 monitor Aux send 3
Bass guitar monitor Aux send 4
Drum Bvox/general mix 5 Drum fill monitor Aux send 5
Stage Plan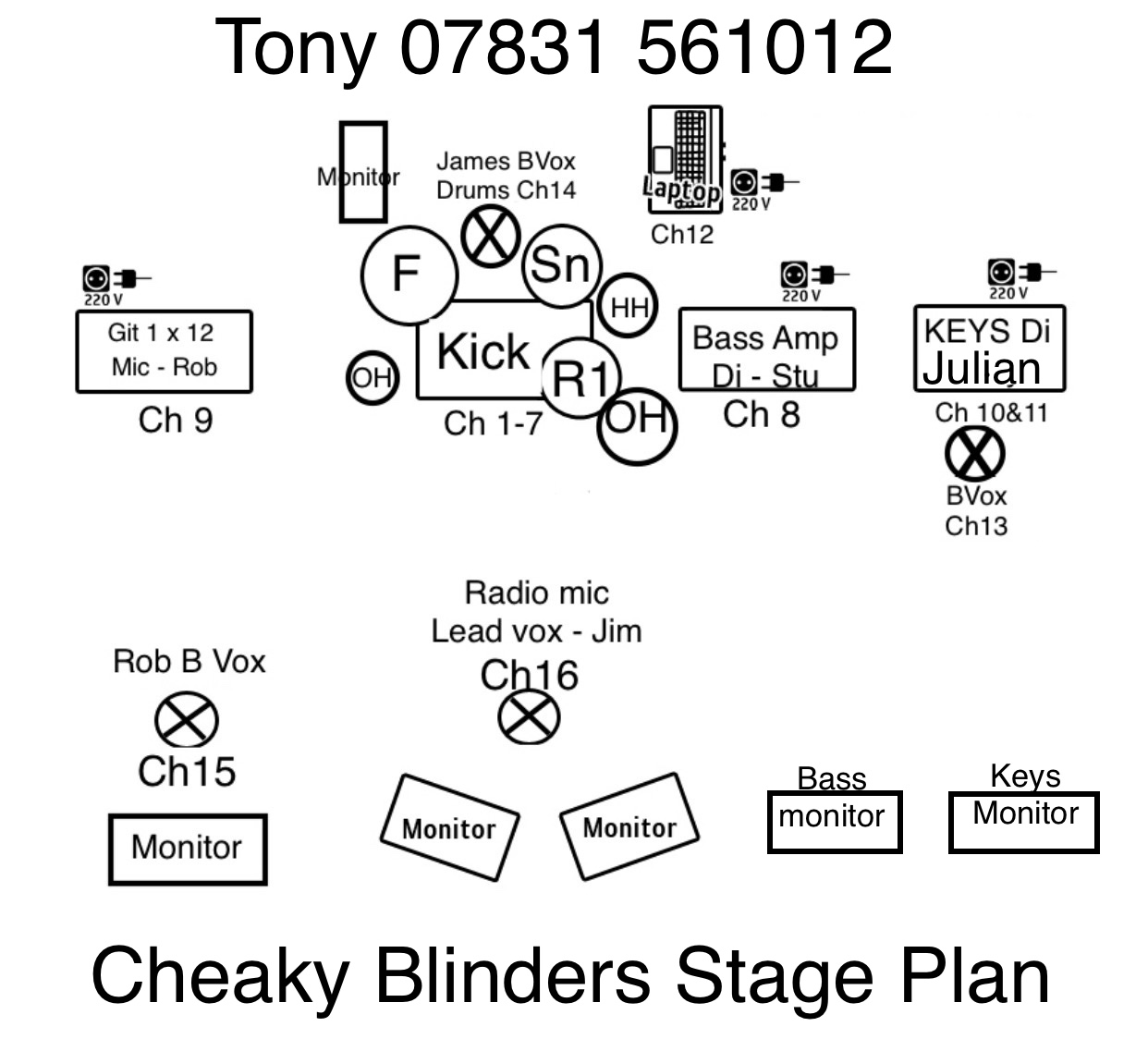 Hospitality Rider for Characters and crew
All of our Character, performers and crew are polite and not unreasonable people to deal with. If our performers need to arrive early to an event all we ask for is tea, coffee and soft drinks to be available with a selection of sandwiches, crisps and fruit for the number of performers attending the event. All of our performers require a hot meal at least one hour before performance time. This can be from an outside caterer, the venue where the event is being held or at a restaurant or bar close to the venue.
All performers will require a room big enough for the number attending to change in and relax before, between and after performing with a table, enough chairs for all performers, a large mirror and a large hanging rail for costumes.
Hospitality Rider for Original Actors and musicians
All of our musicians and original actors require a separate dressing room to change in along with a table, enough chairs for all musicians, a large mirror and a large hanging rail for costumes. All of them require the same catering rider as above but require their hot two course meal at least two hours before performance and NOT crew food.
Our original actors all require separate hotel rooms booking with breakfasts.
The musicians from the band require 3 x twin hotel rooms with breakfasts.